Welcome to St. Charles Borromeo!
If you are in need of your 2020 Contribution letter from St. Charles Borromeo, please call the parish office or email us at stcharlesborromeo@sbdiocese.org with your request. We will be mailing all contribution letters within 2 business days of your request.

Si necesita su carta de Contribución del 2020 de San Carlos Borromeo, llame a la oficina parroquial o envíenos un correo electrónico al stcharlesborromeo@sbdiocese.org con su solicitud. Enviáremos todas las cartas de contribución dentro de los 2 días hábiles después a su solicitud.
We're all in this Together!!

Our Parish will be having a BLOOD DRIVE hosted by the American Cross on Sunday January 24, 2021 from 8:30am to 2:30pm. We ask you, if you can, to support this much needed cause during this time. Please Schedule your appointment by clicking the link below. If you have any questions, please contact the Parish Office.

ALL DONORS AND STAFF WILL BE SCREENED BEFORE ENTERING THE DRIVE.
Sponsor Code: STCHARLESBLOOM
or call 1-800-RED-CROSS

Picture ID Required. We are only accepting appoinments to help maintain social distancing at this time. only healthy donoros will be allowed inside as well.
Nuestra parroquia tendrá un Blood Drive organizada por la Cruz Roja el domingo 24 de enero de 2021 de 8:30am a 2:30pm. Les pedimos, si pueden, que apoyen esta causa tan necesaria durante este tiempo. Por favor hagan su cita haciendo clic en el enlace de abajo. SI tiene alguna pregunta, por favor comuniquese con la oficina Parroquial.

TODOS LOS DONANTES Y EL PERSONAL SERÁN VISUALIZADOS ANTES DE INGRESAR A LA UNIDAD.
Código del patrocinador: STCHARLESBLOOM
o llame al 1-800-RED-CROSS

Identificación de imagen requerida. Sólo estamos aceptando donaciones para ayudar a mantener el distanciamiento social en este momento. solo se permitirán donantes sanos en el interior también.

www.redcrossblood.org

Baptism Classes / Clases de Bautizo
We are offering Baptism Classes through zoom. Our next Baptism Class will be on Saturday, January 30th from 8:30am to 12:30pm. It is $25 dollars per person and you can now register. If you have any questions, please contact the Parish office at 909-877-0792
~~~~~~~~~~~~~~~~~~~~~~~~~~~~~~~~~~~~~~~~~~~~~~~~~~~~~~~~~~~~~~~~
Estamos ofreciendo clases de bautizo a través de Zoom. Nuestra próxima clase sera el sábado, 30 de enero de 8:30am a 12:30pm. Es $25 dólares por persona y ya se pueden registrar. Si tiene alguna pregunta, por favor comuníquese con la oficina Parroquial al 909-877-0792
UPCOMING DIOCESE EVENTS / PRÓXIMOS EVENTOS DE LA DIÓCESES
Training Dates
February 18, 2021
Time…..1:00 pm—3:30 pm
Place…..Zoom Meeting Id: 958 9595 9380 Passcode: DOCYP
Please register for any of these workshops at www.virtusonline.org
Office of Child and Youth Protection 909-475-5125 www.docyp.org
Fechas de entrenamiento
18 de febrero, 2021
Horario…..1:00 pm—3:30 pm
Lugar…..Zoom Meeting Id: 958 9595 9380 Passcode: DOCYP
Por favor registrese a estos talleres en www.virtusonline.org
Oficina de Proteccions de niños y adolecentes 909-475-5125 www.docyp.org
To make a payment for a Mass Intention, Baptism, Quinceañera, Wedding, Weekly offertory, Catechism program or Building Fund click on the ONLINE GIVING image below. If you have any questions please call the parish office at 909-877-0792
~~~~~~~~~~~~~~~~~~~~~~~~~~~~~~~~~~~~~~~~~~~~~
Para realizar un pago por una Intención, Bautizo, Quinceañera, Boda, Ofertorio Semanal, Programa de Catecismo o Fondo de Construcción haga clic en la imagen de ONLINE GIVING a continuación. Si tiene alguna pregunta, por favor llame a la oficina de la parroquia al 909-877-0792

ONLINE GIVING IS HERE!!!

A Secure & Convenient Way to Contribute to Your Parish
Una manera segura y conveniente de contribuir a su parroquia

Online donations may be made at any time from the comfort of your own home or any place with internet access. Online donations are credited to your tax statement for the end of the year (except when made anonymously), and you can change your account preferences and donation amounts at any time.

Las donaciones en línea se pueden hacer en cualquier momento desde la comodidad de su hogar o desde cualquier lugar con acceso a Internet. Las donaciones en línea se acreditan en su declaración de impuestos para el final del año (excepto cuando se realizan de forma anónima), y puede cambiar las preferencias de su cuenta y los montos de las donaciones en cualquier momento.

Click here for more information / Haga Clickaquí para más información
Estamos tratando de llegar a los 1000 suscriptores en YouTube y necesitamos su ayuda. Por favor haganle "Click" al enlace de San Carlos Borromeo que esta aqui y cuando llegen a la pagina de YouTube de San Carlos Borromeo hagale "Click" a "SUBSCRIBERS" O si esta en español "Subscribase". Hasta hoy tenemos 518 subscripciones. Por favor pase esta informacion para poder llegar a los 1000. Gracias y que Dios los bendiga.

We are trying to reach our 1000 subscribers on YouTube and we need your help. Please click on our YouTube channel and click on the "SUBSCRIBE' button. We are currently at 518 subscribers. Please share this info and help us reach our goal of 1000 subcribers. Thank you and God bless you all.

Click Here/ Haga Click aqui >>>> Saint Charles Borromeo Bloomington Califronia

Parish office hours are
Monday - Thursday
10am - 6pm
Friday
10am - 4pm
Saturday
9am-4pm
(909) 877- 0792

Religious Education office hours are Monday, Wednesday & Friday
4:30pm- 9pm
(909) 421-1494

Fax Number (909) 877-4304

Email stcharlesborromeo@sbdiocese.org

St. Charles Borromeo

Masses / Misas
Monday - Friday/Lunes - Viernes
8:30am Bilingual / Bilingüe
Thursday/Jueves
7pm Spanish / Español

Saturday/ Sábado
English 5pm
Español 7pm

Sunday / Domingo
Español 7am
English 9am
Español 11am
Español 1pm
Español 5pm
Español 7pm

Sacrament Adoration
Mon., Tues., Wed.,
7pm - 8pm
Thurs.,
8pm - 9pm
Friday 7pm - 9pm

Adoracion Santisimo Sacramento
Lun., Mar., Mier.,
7pm - 8pm
Jue.,
8pm - 9pm
Viernes 7pm - 9pm

Confessiones / Confesiones
Thursday / Jueves
5:30pm - 6:45pm
Friday / Viernes
9:30am - 10:30am
Chiquitin Missionero


Los Cursos de Chiquitín Misionero Siguen. Estaremos subiendo videos todos los Sábados en nuestra página de Facebook




Catholic News & Perspective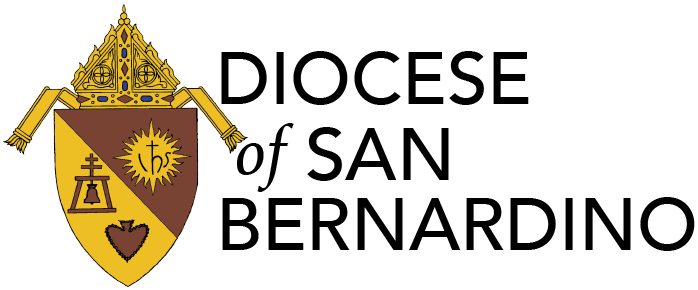 RESOURCES OFFERED BY THE DIOCESE OF SAN BERNARDINO